Chronicle of Philanthropy Highlights PACE Project
We just heard from our friends with Philanthropy for Active Civic Engagement (PACE) that their work with was featured recently in the prominent Chronicle of Philanthropy. The article was coauthored by two NCDD members and has some great insights, so we wanted to share their announcement and encourage you to read the article. You can read their announcement below.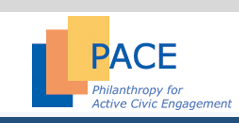 The Chronicle of Philanthropy has recently published "Foundations Must Rethink Their Ideas of Strategic Giving and Accountability", an article that was co-authored by PACE Executive Director Chris Gates and Kettering Foundation Program Officer Brad Rourke.
The article is based on the upcoming PACE white paper, "Philanthropy and the Limits of Accountability: A Relationship of Respect and Clarity" authored by Rourke. PACE and Kettering have been working together for the past two years to better understand how the trends of 'accountability' and 'transparency' might impact the field of philanthropy, and how philanthropy might respond.
The paper was informed by a series of interviews and convenings, a distinguished group of foundation executives, non-profit leaders and thought leaders in the philanthropic and social sectors. Many of their insights and questions are reflected in the paper, which we be released soon as a free pdf download on the PACE website, www.pacefunders.org.
To read the Chronicle article, visit http://philanthropy.com/article/Foundations-Must-Rethink-What/146603.