UN Hosts History's Largest Global Climate Deliberation
Last month, the team with the Jefferson Center, an NCDD member organization, hosted one of 96 day-long deliberations that occurred around the world where average citizens discussed what should be done about climate change. It was the largest ever such consultation, and the results from Minnesota and abroad are fascinating. We encourage you to read the Jefferson Center's piece about the process and the results below, or find the original here.
---
World Wide Views in the Twin Cities
This past Saturday, we hosted 70 Twin Cities metro area residents at the Science Museum in Saint Paul to discuss climate and energy issues as part of a global day of public deliberation. Organized by the World Wide Views Alliance, 75 countries around the world conducted World Wide Views on Climate and Energy forums in the largest ever global citizen consultation on climate change. The goal was to gather quantifiable public opinion to inform decision makers at every level, but particularly negotiators at the 2015 UN Climate Change Conference (COP21).
Each of the 96 host sites followed the same agenda and addressed the same questions. The resulting data is credible and consistent, making the results an important asset to both researchers and politicians. Every site, including ours in St. Paul, provided participants with the same informational materials on current international climate policy issues. Participants were asked to discuss and vote on a series of questions designed to reflect controversies that might arise at the COP21 talks in Paris this December. Voting results were uploaded in real time.
67% of the Minnesota participants identified as "very concerned" about climate change, and 79% felt that the UN climate negotiations over the past twenty years had not done enough to tackle climate change. National and global percentages were very similar. 97% of Minnesota participants (along with 95% of US participants) agreed that our country should take some measures to reduce our greenhouse gas emissions even if other countries do not take action.
Minnesotans were slightly in favor of a carbon tax for all countries (with gradually increasing costs for countries that do not reduce their emissions), although a significant portion of the room also completely opposed a carbon tax, much more so than the global average. On the other hand, Minnesotans – in agreement with 59% of the United States participants – were more enthusiastic about cutting fossil fuel subsidies than the rest of the world, and slightly more in favor of stopping fossil fuel exploration than the global average.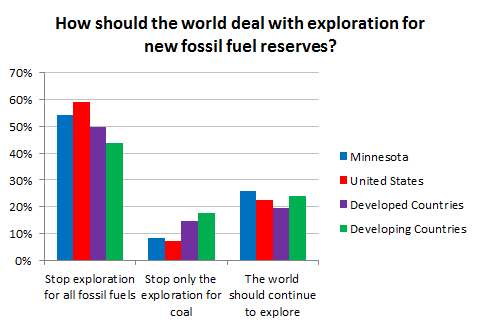 Twin Cities residents tended to agree with the rest of the world about international policy. 77% of Minnesota participants were in favor of a legally binding treaty in Paris, either for all countries or at least for developed and emerging nations. 97% of Minnesotan participants also agreed with the overwhelming national and global consensus that countries should update their climate commitments every five years after Paris.
Twin Cities participants were nearly unanimous (96%) in agreeing that all countries should report their emissions and report on the progress of their contribution to lower emissions, but were more divided about whether the UN should have the authority to conduct reviews for each country (55%) or only for global combined efforts (38%). These responses roughly reflect the average national and global data trends, but stand in stark contrast to the 70% of developed country participants in favor of the UN reviewing individual countries.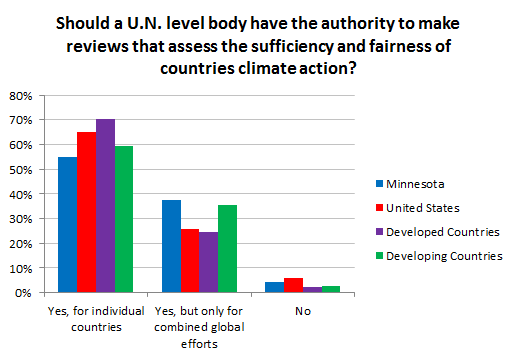 Similarly controversial: the lengths different groups of people were willing to go in order to stop climate change. 71% of developed country participants thought that the world should do "whatever it takes to limit temperatures exceeding 2 degrees Celsius of warming," but only 54% of Minnesotans agreed.
Participants from the seven county metro area were selected to, as near as possible, reflect the racial, gender, age, and educational diversity of the Twin Cities, in order to elevate the opinions representative of all metro area residents. The results from all World Wide Views sites will be shared with the delegates attending the COP21 meetings, both ahead of and during the negotiations in Paris. Compare results yourself at the World Wide Views results page.
Stay tuned for more posts as we continue to unpack World Wide Views results.