Discover the Secrets of Successful Community Engagement
We are pleased to share the announcement below about a great workshop coming up this October 8 in Vancouver. NCDD Supporting Member Mark Pivon of Bang the Table shared this announcement via our great Submit-to-Blog Form. Do you have news you want to share with the NCDD network? Just click here to submit your news post for the NCDD Blog!
---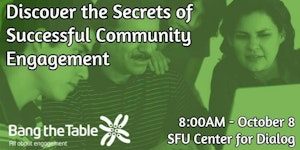 On October 8th, direct from Australia, Bang The Table's CEO Matt Crozier, will deliver a free, fun and interactive workshop where he will reveal the Top Ten Best Practices of Community Engagement, distilled from thousands of events held by communities across Canada, and around the world.
Did you know, every week over 50 new consultations are launched using EngagementHQ? Over 140 organizations are currently engaging communities and stakeholders in important consultations this very moment. Organizations like The Canadian Department of the Environment, Alberta Energy Regulator, The City of Mississauga, The Regional Municipality of Halifax, The Vancouver Port Authority, The Vancouver Airport Authority, The Richmond School Board, The City of Richmond and dozens of others have chosen EngagementHQ and Budget Allocator from Bang The Table. What are they doing to ensure success? How are citizens responding?
These questions and more will be explored in our Vancouver EngagementHQ Roundtable.
Date: Thursday October 8th, 2015
Time: 7:30AM – 10:00AM
Location: SFU Morris J. Wosk Center for Dialog, 580 West Hastings Street, Salon B – ICBC Concourse
The registration desk will open at 7:30AM, and we will begin at 8:00AM sharp, so please be sure to arrive early.
What you can expect from attending this event:
Learn how to gather an unlimited number of ideas and enable your community to prioritize them in a democratic and transparent manner
Implement multi-channel communications strategies both offline and online to deliver consistency in messaging while securing the widest audience reach
Energize communities, build awareness, and secure consensus around important initiatives that eventually point to a record of accomplishment
Discover how to use social media in an effective and cross-collaborative manner
Mitigate risk and ensure compliance is upheld to all privacy standards while securing feedback from stakeholders, safely and securely
Gain insights from other practitioners in community and stakeholder engagement
Our demonstration and roundtable event is free and will provide the opportunity to review a variety of case studies, meet with fellow practitioners, and have your questions answered on online community and stakeholder engagement.
Hope to see you there. This event is free, but seating is limited. Please also note that attire is business casual.
Register here:
www.eventbrite.ca/e/discover-the-secrets-of-successful-community-engagement-tickets-18613955843