Join Confab Call with Not In Our Town on Responses to Hate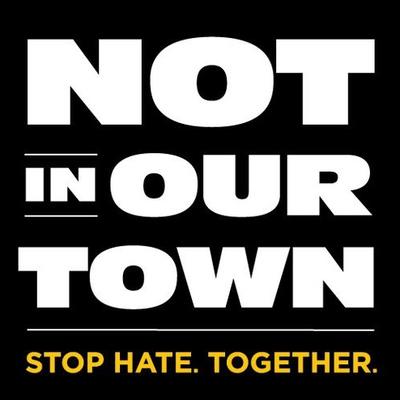 We are pleased to announce that NCDD is hosting our next Confab Call with Not In Our Town, an NCDD member organization that uses film and dialogue to help regular people respond to hate in their communities. This hour-long webinar will take place Wednesday, February 8th, 2017 from 1-2pm Eastern/10-11am Pacific, and we encourage everyone to register today for a inspiring call!
Not In Our Town is both an organization and a movement dedicated to stopping hate, addressing bullying, and building safe, inclusive communities for all. Not In Our Town (NIOT) was launched as an organization in 1995 with a landmark PBS film that documented the efforts of everyday people in Billings, Montana who stood up together after a series of hate crimes targeting their Native American, Black, and Jewish neighbors.
The story and the film went on to inspire many other communities in the US and around the world to form their own responses to hate crimes and hate groups cropping up in their locales, and the NIOT team continued to make inspirational short films documenting their stories as they unfolded. NIOT has since made over 100 of these films and created discussion guides that accompany them. The films and discussion guides cover dozens of subject areas and topics, and they are compiled into an online hub that is designed to support towns, schools, campuses, faith communities, or any other kind of group in launching dialogues on how they can address issues of hate and bullying that are impacting them.
This call is part of NCDD's ongoing #BridgingOurDivides campaign that seeks to heal the damage done in the divisive 2016 election while also addressing the longer-standing divisions in our country. As many communities where NCDD members live and work in struggle with how to deal with the rise in hate crimes and assaults that we've seen since the election, and as we prepare for the possibility that this trend might not go away, NIOT's dialogue resources and model for supporting action can be critical tools for the D&D community to tap into. Be sure to join us on this Confab to find out how!
This Confab Call will feature a discussion with NCDD supporting member Patrice O'Neill, who serves as the CEO and Executive Producer of Not In Our Town. Patrice will share an overview of NIOT's work and the approach that they use to launch community-wide dialogues and guide people from discussion into taking action against hate.
The call will also be an exclusive opportunity to discuss how the D&D field can support the growing need for conversation on addressing hate and violence in our communities. NIOT has seen a surge in requests for its services since November, which presents a unique opportunity for D&D practitioners to connect with and support NIOT's work while also possibly cross-pollinating our methods and models, and call participants will have the chance to think together with Patrice about what that could look like.
You won't want to miss this exciting conversation on NIOT's model and resources and how the NCDD network can better interface with the NIOT network. We highly encourage everyone to register today for this great call!
About NCDD's Confab Calls…
NCDD's Confab Calls are opportunities for members (and potential members) of NCDD to talk with and hear from innovators in our field about the work they're doing and to connect with fellow members around shared interests. Membership in NCDD is encouraged but not required for participation. Confabs are free and open to all. Register today if you'd like to join us!