Rich Discussion on NCDD Listserv about Charlottesville
We've been having a rich, active conversation on the main NCDD Discussion list since the tragedy in Charlottesville took place a few weeks ago.  One of our members, Lucas Cioffi, a resident of Charlottesville, queried listserve subscribers about what next steps might be possible for the city, and the conversation expanded and deepened from there.
Archives of the NCDD Discussion list (going all the way back to 2006!) are available online, and we encourage you to check them out and subscribe to the list to be part of future such discussions.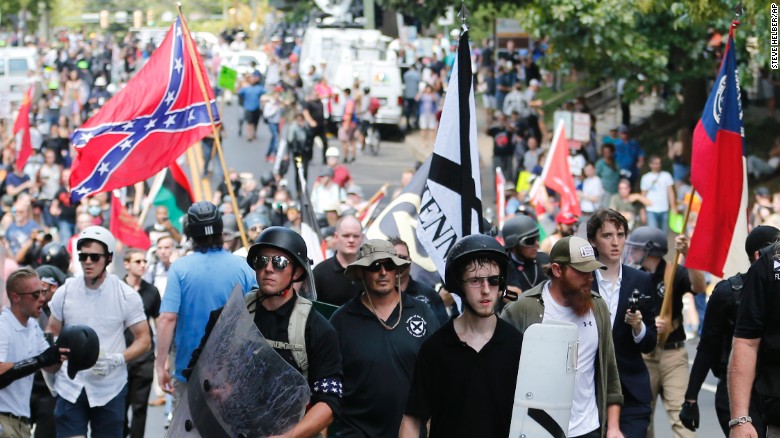 One message I wanted to lift up in particular was sent in by Joseph McIntyre, Principle Facilitator of Ag Innovations and Founding Member of the Academy for Systemic Change. In it, he uses a disaster metaphor to outline four steps communities can take to heal from traumatic events, and how dialogue and deliberation fit into those steps.
Dear Lucas and my Fellow NCDD'rs—
One of the things I love about NCDD is how we as a community can rally to offer friendship and experience at key moments like this. Already some wonderful suggestions have come forward.
It might be helpful to use a disaster metaphor when thinking about how a community responds and heals from a traumatic event such as what happened in Charlottesville. In that metaphor—
1) Step one: triage. This is about providing support and succor to those most impacted by the events. The families of those who lost their lives, people close to the front line of the violence, anyone who feels emotionally scarred from the experience. The goal of triage is individual healing. Since we work in communal space, the focus of our offerings are about honoring the experiences of those who are impacted. We construct venues where we can listen to each other deeply, experience the pain of the moment, and begin to put ourselves back together. This is definitely not about finding solutions and it is not a moment to do conflict resolution, mediation, or bringing opposing views together.
2) Step two: understanding. This is about developing a much more sophisticated understanding of the events—what drives extremists, what drives counter-protests. What the context is. This is what Scharmer et al describe as descending the U. There are a number of methods to do this and I think each of us uses those methods we are most comfortable with. What matters more is our intention. Here the intention is clearly on understanding what happened from a systems, historical, social, political, racial (and on…) perspective. Here we construct venues where the community can think together…
3) Step three: bridging. This is about exploring where there may be opportunities to build bridges between those willing to see from the whole. One of the most painful lessons I have learned as a facilitator is that one can find middle ground only between those willing to move from their entrenched positions. The challenge of our time is that we are being encouraged to dig in and not move. This renders many of our best tools impotent because they are premised on an inherent drive to wholeness. Some of the best work in the world around building these bridges, particularly when the parties have a history of violence and animosity is from Adam Kahane—his latest book Collaborating with the Enemy: How to Work with People You Don't Agree with or Like or Trust is very helpful. Still we can do bridging and here we construct venues where the community can aspire together.
4) Step four: building. This is about making decisions together about how we want to act and be together. It is the last step (although we all too often want to skip ahead and make it the first). It comes after we have healed, have created shared understanding, attempted to build bridges, and is entirely about tapping community wisdom and values. The venues we construct here are about the future we are trying to create. This is Future Search, vision quests, wisdom circles, and deep dialogue.
I am of the belief that we have a historic opportunity to put hate back in its proper box. Democracy can not run on hate. Dialogue can not run on hate. But again as Adam Kahane writes in Power and Love: A Theory and Practice of Social Change, we have to create venues where we as a community can learn to balance the impulse to love and to power. Neither alone is sufficient.