Online Facilitation Unconference Coming Up Oct. 16-22
We encourage the NCDD network to attend the fourth edition of Online Facilitation Unconference (OFU) on Oct 16-22. This digital gathering is hosted by the Center for Applied Community Engagement LLC, and is a great opportunity for anyone interested in virtual facilitation – no previous experience needed!
As part of NCDD member benefits, NCDD members are eligible for a 20% discount when you use discount code "NCDD2017". Make sure you register and get your tickets ASAP! Follow OFU on Twitter with the hashtag #OFU17 for more #FacWeek updates. You can read the announcement below for more info or find the original on the OFU Exchange site here.
---
Online Facilitation Unconference 2017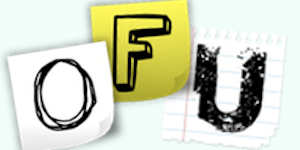 Your favorite online unconference on the art and practice of facilitating in virtual environments is back!
Join us October 16-22, 2017, alongside International Facilitation Week.
Share, learn, connect, and have fun with participants from (or currently based in): the United Kingdom, Ireland, Germany, Spain, Finland, Iceland, Australia, Peru, Canada, and the United States.
ABOUT
What is Online Facilitation Unconference?
The Online Facilitation Unconference (OFU) is a community-driven event that brings together people from the public, private and non-profit sector whose work includes, or who have an interest in, facilitation in virtual environments.
OFU is about sharing, learning, making new connections and having fun.
When does the event take place?
OFU 2017 will once again take place alongside International Facilitation Week and run for exactly one week, from Monday, October 16 to Sunday October 22, 2017.
Who's organizing the event?
The event is run by the Center for Applied Community Engagement, LLC, a private institute and social enterprise serving the growing professional field of community engagement and public participation practitioners from around the globe through market research, content publishing, industry events and other services.
WHO SHOULD ATTEND
Do I have to be a professional facilitator in order to attend?
No, anyone with an interest in online or virtual facilitation – whether for professional or personal reasons – is welcome! While a good number of our attendees do facilitation for a living, many others perform the functions of convener and facilitator as part of their regular job.
Do I have to have prior experience with facilitation in virtual environments?
No, OFU aims to bring together experts and newbies alike. Everyone can contribute!
Who are the attendees?
Here are some of the job titles people are bringing to the table this year (in alphabetical order):
CEO
Coach
Collaboration engineer
Community organizer
Community strategist
Consultant
Director
Facilitator
Founder
Head of school
Independent scholar
Organizer
Planner
Program analyst
Program coordinator
Senior product manager
Trainer
Where are attendees from?
So far, our registered attendees are from – or currently based in – the following 15 countries from around the world (in alphabetical order):
Australia
Canada
Dominican Republic
Finland
France
Germany
Greece
Iceland
Ireland
Israel
Netherlands
Peru
Spain
United Kingdom
United States
FORMAT & FOCUS
What is an unconference?
An unconference is a conference where the attendees create the agenda. We'll have more to say about this over the coming weeks. Make sure to sign up for the mailing list.
What do you mean by "virtual environment"?
Anything that creates venues for people and groups to interact outside a strictly in-person context: phone conferences, online chat, video conferencing, virtual reality etc. as well as augmented in-person processes and events.
AGENDA & SCHEDULE
What is the agenda for the event?
A handful of introductory sessions will be scheduled ahead of time. These will likely take place on Monday and/or Tuesday of that week. We'll try our best to fit them into one of three daily slots (see below).
The rest of the agenda will emerge dynamically once the unconference gets under way as people suggest potential topics, find collaborators, negotiate timing and add sessions to the schedule.
We recommend that unconference sessions get scheduled from Wednesday at the earliest, giving everyone enough time to find out about them and sign up.
Who can propose session topics?
Anyone is encouraged to make suggestions and lead sessions.
What are the three main daily time slots?
In order to maximize connection and collaboration across key time zones, we suggest that sessions be scheduled to fall into one of the following slots:
1. Americas + Europe: 8-11am Pacific Time (that's evening 5-8pm in Europe)
2. Americas + Australasia: 4-7 pm Pacific Time (that's 9am to 12pm in the morning in Sydney)
3. Europe + Australasia: 12-3am Pacific Time (that's morning in Europe & afternoon/evening in Sydney)
This is simply a recommendation and has worked well in the past. However, attendees are free to pick whatever session times work best for them.
VENUES
Where will the conference be held?
Online Facilitation Unconference (OFU) is a virtual event.
In terms of online meeting venues, we will provide a central space where people can introduce themselves and plan the schedule together.
Regarding individual sessions, which online meeting venues will be used is up to the session leads. In the past, people have used a wide variety of tools depending on topic, group size, where they are based etc. We've also had people make tools available for others (e.g., WebEx, Adobe Connect).
TICKETS
Where can I get tickets?
Please head on over to Eventbrite for to purchase your ticket and register for the event.
Will there be stipends available for students or people of low income?
Our goal is to make this event as inclusive and as accessible as possible.
As of September 20, a first batch of 10 pay-what-you-like tickets has been made available for students, people of low income, attendees from developing countries etc. Just pick the amount that best fits your needs – no questions asked!
We'll add more tickets over time as the number of regular registrations increases.
Please subscribe to our newsletter and be among the first to get updates. Thanks!
CONTACT
How can I get in touch?
Please shoot us an email to let us know any questions, ideas or concerns. Thanks!
You can find the original version of this announcement on the OFU Exchange site at www.ofuexchange.net/