Join the Online Facilitation Unconference on Oct 15-21
The fifth Online Facilitation Unconference (OFU) is happening on Oct 15-21! This digital gathering is hosted by the Center for Applied Community Engagement LLC, and is a great opportunity for anyone interested in virtual facilitation – no previous experience needed! The early bird tickets are available until Oct 12th, so make sure you register and get your tickets ASAP! Follow OFU on Twitter with the hashtag #OFU18 for more #FacWeek updates. You can read the announcement below for more info or find the original on the OFU Exchange site here.
---
Online Facilitation Unconference 2018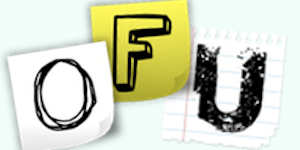 Your favorite online event on the art and practice of facilitating in virtual environments is back!
Join us October 15-21, 2018. Tickets on sale now!
What is the Online Facilitation Unconference (OFU)?
The Online Facilitation Unconference (OFU) is a learning exchange on the art and practice of facilitating in virtual environments. It is a community-driven event that brings together people from the public, private and non-profit sector from around the globe whose work includes, or who have an interest in, facilitating online.
OFU is a place to share, learn, make new connections – and have fun!
What is an unconference & how does it work?
OFU is an unconference. While traditional conferences come with a pre-determined schedule, an unconference allows the participants to create the agenda on the fly based on who shows up and what their interests are. In a nutshell, participants bring their questions and topic ideas and – in collaboration with their peers – suggest, schedule and host the sessions and workshops that meet their needs.
Unconferences require attendees to put in a bit of extra work, but the results can be magical.
How much time is involved as an attendee?
You can spend as much or as little time as you like. Based on past experience, the average participant tends to attend a handful of sessions over the course of the entire week. Sessions can vary in length but usually take anywhere between 45 and 90 minutes.
What do you mean by "virtual environments"?
"Virtual" refers to any process or experience that takes place outside a strictly in-person context. At OFU, we explore the methods for delivering facilitation using any tool, technology or channel that provides virtual venues, for example phone conferences, online chat, video conferencing, virtual reality, augmented or hybrid in-person processes and events.
Who's organizing the event?
The event is run by the Center for Applied Community Engagement, LLC, a private institute and social enterprise based in San José, CA (USA) serving the growing professional field of community engagement and public participation practitioners from around the globe through market research, content publishing, industry events and other services.
What's the history behind OFU?
In 2013, a group of people took this idea, which had been brewing for a while, and decided to run with it. Within a few short weeks, the first OFU was held.
In 2014 and 2015, OFU was organized by San José, CA-based digital engagement consultancy Intellitics, Inc.
In 2017, the Online Facilitation Unconference was moved under the ownership of the Center for Applied Community Engagement, LLC.
2018 will be the fifth event.
ABOUT THE 2018 EVENT
When does the event take place?
OFU 2018 will take place October 15–21, 2018 – once again alongside and as part of International Facilitation Week, which is being hosted by the International Association of Facilitators (IAF).
What's the schedule?
More details will become available the week prior to the event, but here's a rough overview of how the week will unfold.
From now through October 15, you are welcome to:
Read this FAQ page to learn more about the event
Tune into the conversation on social media (see links below)
Think about topics you'd like to cover (either as a knowledge sharer, or knowledge seeker, or both)
Tell your friends and colleagues
Find out what areas of interest registrants have on their mind (sign up for our newsletter, and we'll tell you)
Register for the event
Early in the week of October 15-21 (Tuesday through Thursday), you will have an opportunity to:
Attend one of several welcome mixers to get any questions answered, meet a first few of your fellow participants etc. (exact times TBD)
Join the online forum to introduce yourself, meet fellow participants, and discuss session topics
Attend one or more pre-scheduled warm-up sessions to help get your creative juices flowing (details TBD)
Add your sessions to the schedule
Later in the week of October 15-21 (Friday and Saturday), we hope you will:
Attend the unconference sessions
Add more sessions to the schedule (hey, it's an unconference)
After the week is over, you can:
Explore on the session notes
Add your own notes and materials to the website
Read the conference report
Share your feedback and ideas for OFU 2019
We will announce specific times or windows for most of these activities shortly so you can plan ahead. Thank you for your patience!
Are all the sessions delivered in real time? Can I dip in and out or catch up later?
Yes, all sessions tend to be offered live (via some synchronous form of communication, e.g., Zoom, WebEx or the like). In theory, sessions could also be run as an asynchronous conversation (e.g., on the online forum we will set up), though not sure if we have seen too many of those in the past.
We encourage all session hosts to record their sessions and make them available afterwards. However, some sessions won't get recorded due to various reasons (e.g., because they contain sensitive conversations). In that case, we encourage hosts to at least share a brief write-up or any other notes or materials they can make available that would give others an idea what was covered and help them explore the topic on their own.
Based on our experience, the average unconference attendee will make it to a handful of sessions. We will try our best this year to get participants to
a)  populate the unconference session plan as early in the week as possible, and
b)  stick to the recommended session windows
so as to make it more likely for more participants to be available for more sessions.
TICKETS
How much do tickets cost?
A regular ticket costs $49. Our early bird rate is $29 (good September 24 through October 10).
Students, retirees and other low-income people can attend for only $15.
For everyone else, including people from developing countries, we offer a "pay what you wish" option. We strive to be inclusive and don't want anyone to miss out on the event due to cost burden.
Members of the International Association of Facilitators (IAF) will receive a significant discount. Details to be announced by September 25.
How do I register?
Please go to our Eventbrite page to purchase your ticket.
INTENDED AUDIENCE
Who should attend?
Anyone with an interest in facilitating in virtual environments is invited to join.
Do I have to be a professional facilitator in order to attend? No.
While a good number of our attendees do facilitation for a living, many others come from other backgrounds and perform the functions of convener and facilitator as part of their regular job or event outside their day-to-day work.
Do I have to have prior experience with virtual facilitation or technology? No.
Whether you are a complete newbie or already and expert – anyone with an interest in online or virtual facilitation is welcome.
In the past, OFU has always attracted a broad range of expertise levels (beginner, intermediate, expert, and everything in between). Thanks to the unconference format, everyone can contribute to the best of their capabilities!
Who are the attendees?
The people who show up at OFU wear many hats. Here are just a few of the job titles we saw at OFU 2017 (in alphabetical order):
CEO
Coach
Collaboration engineer
Community organizer
Community strategist
Consultant
Director
Facilitator
Founder
Head of school
Independent scholar
Organizer
Planner
Program analyst
Program coordinator
Senior product manager
Trainer
You can find the original version on this on the OFU site at www.ofuexchange.net/.