Join Democracy Beyond Elections Campaign Kick Off in NYC
We are thrilled to share this exciting announcement from our friends at the Participatory Budgeting Project – an NCDD member organization, in collaboration with Civic Hall, for the national kick off of the Democracy Beyond Elections campaign. This campaign seeks to strengthen democratic engagement and participation between and beyond elections and we strongly encourage folks in the network to be present if they can when this new effort launches on Monday, June 24th at Civic Hall in New York City. Learn more about this new effort to amplify participatory democracy in the post below and find the original information on the Eventbrite page here.
---
Democracy Beyond Elections: A New Deal for Our Broken Democracy?
Join the Participatory Budgeting Project and Forums @ Civic Hall for the national kick off of the Democracy Beyond Elections campaign. We are convening to build support for a democracy that deepens participation and civic engagement beyond and between elections, and creates a pipeline for diverse and equitable community leadership.
Learn about top new models of participatory democracy, including Ireland's National Citizen Assembly, Scotland's Community Empowerment Act, Spain's Decide Madrid, and New York City's Civic Engagement Commission and Participatory Budgeting. Be inspired by how community and government leaders from these programs have used participatory democracy to equitably reshape government policy and spending on issues such as abortion, climate change, and transportation.
We're asking questions like:
Why is trust in government so low?
Can we unrig our systemically undemocratic government structure so it reflects the majority rather than the privileged elite?
How could participatory democracy support social movements for equity and give more power to historically marginalized people?
How can we leverage moments of political and economic crisis to win structural changes in government?
How is participatory democracy different from and related to electoral politics?
How can we bring government by the people to scale in the U.S.?
The evening will start with a brief overview of the Democracy Beyond Elections campaign from Shari Davis, Co-Executive Director at the Participatory Budgeting Project. Guest speakers will then share their experience with expanding or engaging with participatory democracy practices, before moderated conversation and audience discussion. Speakers include:
Miguel Arana Catania | Director of Citizen Participation, City of Madrid
Louise Caldwell | Entrepreneur, Member of Ireland Citizens Assembly
Fiona Garven | Director, Scottish Community Development Centre and Community Health Exchange
Sarah Sayeed, Ph.D | Chair, Civic Engagement Commission | Senior Advisor, Community Affairs Unit, New York City Mayor's Office
Doors open at 5:50 pm, we start promptly at 6:15 pm.
This event is coordinated by Forums @ Civic Hall and the Participatory Budgeting Project, in partnership with the Center for Popular Democracy, Generation Citizen, Everyday Democracy, and People's Action.
Support for this program was provided by the Ford Foundation and the Robert Wood Johnson Foundation. The views expressed here do not necessarily reflect the views of the foundations.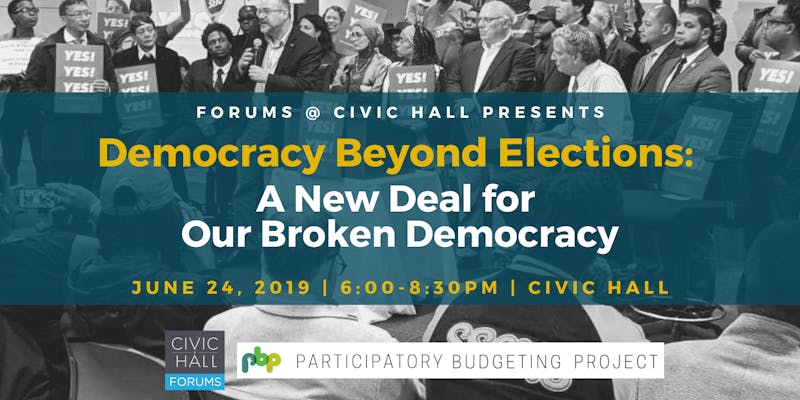 For more information visit https://www.participatorybudgeting.org/dbe/.
You can find the original version of this information on the Eventbrite page at https://www.eventbrite.com/e/democracy-beyond-elections-a-new-deal-for-our-broken-democracy-tickets-62891807088