Register for Next Week's Online Facilitation Unconference!
The sixth Online Facilitation Unconference (OFU) is happening on Oct 7-13, 2019! This digital gathering is hosted by the Center for Applied Community Engagement LLC, and is a great opportunity for anyone interested in virtual facilitation – no previous experience needed! OFU is part of the International Facilitation Week and members of the International Association of Facilitators (IAF) can receive a 30% discount! This global event is happening next week so make sure you register and get your tickets ASAP! Follow OFU on Twitter with the hashtag #OFU19 for more #FacWeek updates. You can read the announcement below for more info or find the original on the OFU Exchange site here.
---
Online Facilitation Unconference 2019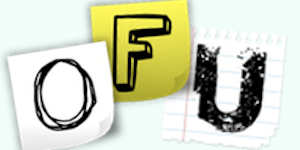 Welcome to the sixth Online Facilitation Unconference (OFU), the week-long international learning exchange exploring the art and practice of facilitating in virtual environments.
Join us on October 7-13, 2019. Tickets on sale now!
Who should attend?
OFU aims to connect people from these three broad groups:
Facilitators
Practitioners from other fields whose work also includes facilitation
Technology providers
We welcome participants from all backgrounds and across all levels of expertise regarding facilitation and the use of online technology.
For example:
You are a senior facilitator who has just recently started to deliver your services in virtual settings. Do you have questions or roadblocks you'd like to discuss?
Or maybe you are already an expert in virtual facilitation. Are you currently exploring some cutting edge method and would like to try it out in a friendly, constructive environment?
Or maybe you work in an entirely different field (e.g., business management, education, the non-profit sector) and you are frequently tasked with leading productive online meetings or expect your staff to be able to so. Do you have insights you can share? Or are you looking for approaches to training that fit your needs?
What to expect?
OFU provides an opportunity for attendees to explore, share, learn, and connect with colleagues from around the world. We hope you will:
Explore a wide range of topics related to online facilitation
Find answers to questions or challenges you have encountered in your work
Discover new tools, methods, resources, etc.
Make new connections with colleagues from around the globe!
Come away with new energy and plenty of new ideas to try out next!
As is the nature of unconferences, our attendees are active participants who will create the agenda collaboratively based on their shared interests and needs. Yes, you will help shape what will be talked about!
Event timeline
October 7–9 – Join one of several live welcome sessions (each approximately 45 minutes long via videoconferencing) as well as several other pre-scheduled sessions. More details soon!
October 10–12 – Unconference sessions
October 13 – Room for spill-over sessions (if needed)
Later in October – Event follow-up
A few key things to note:
The Online Facilitation Unconference (OFU) is an annual learning exchange on the art and practice of facilitating in virtual environments. It is a community-driven event that brings together people from diverse backgrounds from all around the world whose work includes, or who otherwise have an interest in, facilitating in the virtual realm.
OFU is an event for newbies and experts alike. Whether you are a seasoned facilitator pro or a beginner, whether you are already highly skilled using technology for this work or still trying to figure out the possibilities – OFU provides a venue where you can ask and answer questions, share and solicit advice, discuss your latest project, challenge or idea, explore new tools, discover new tricks, and find like-minded colleagues.
Aside from a handful of pre-scheduled sessions, OFU is an unconference (an event where the participants co-create the agenda). OFU is a blank slate for you to pitch your ideas in collaboration with fellow attendees. The agenda will emerge based on your and everyone else's needs and interests.
OFU is a not-for-profit event. It is important for us to keep the event open and accessible for everyone who is passionate about the topic. If you aren't in a position to pay full price, please make use of our low-income options and encourage others to do the same.
Sometime in early September, we will announce a more detailed schedule that will specify the various main time slots during which the majority of unconference sessions are expected to be held. These time slots are optimized for trans-continental collaboration and sharing (Americas, Europe/Africa, and Asia/Australia). We highly encourage our session hosts to schedule their sessions within these designated time slots as much as possible so as to maximize global participation.
Session hosts are encouraged to record or otherwise document their sessions. Following each session, any available recordings or documentation will be posted to the OFU website in a timely manner.
OFU works best the more people contribute. Don't miss this unique opportunity to learn and share about facilitation in virtual environments and bring along your friends and colleagues from around the world!
Learn more about the session offerings on the OFU Eventbrite site at www.eventbrite.com/e/online-facilitation-unconference-2019-registration-71022166211.
You can find the original version of this on the OFU site at www.ofuexchange.net/.