Join the Premiere of The Reunited States Film on Feb 11th!
Happening this Thursday, February 11th is the launch event for the film, The Reunited States. This film is inspired by its' namesake book, The Reunited States, authored by Mark Gerzon, president of Mediators Foundation, an NCDD member org. The Reunited States is a powerful and urgent documentary that follows the unsung heroes on the difficult journey of bridging our political and racial divides. The film, like the book, urges us to consider that everyone has a role to play in reuniting the country. To attend the Red and Blue Carpet premiere event of the The Reunited States film sign up here!
The premier will feature special guests, Van Jones and Megan McCain, the cast of the film, as well as remarkable activists (and actors) from around the country participating through the evening. It will be a powerful and timely conversation about political dialogue in our highly polarized country. Admission to this event is free and open to the public. For more information on the event, read below and find the original announcement here.
---
The Reunited States: The Red and Blue Carpet Premiere
Click on the link to watch a trailer of this anticipated film or here to sign up for the premiere. The stream begins February 11, 2021 5:00 PM PST. Please note that you may enter the livestream and chat at anytime once you register on the Eventive site.
After the February 11th premier livestream, the content can be viewed anytime until July 5th at 7:00 pm. The Reunited States is available for pre-order on iTunes and releases nationwide February 9th on Amazon, iTunes, and On Demand.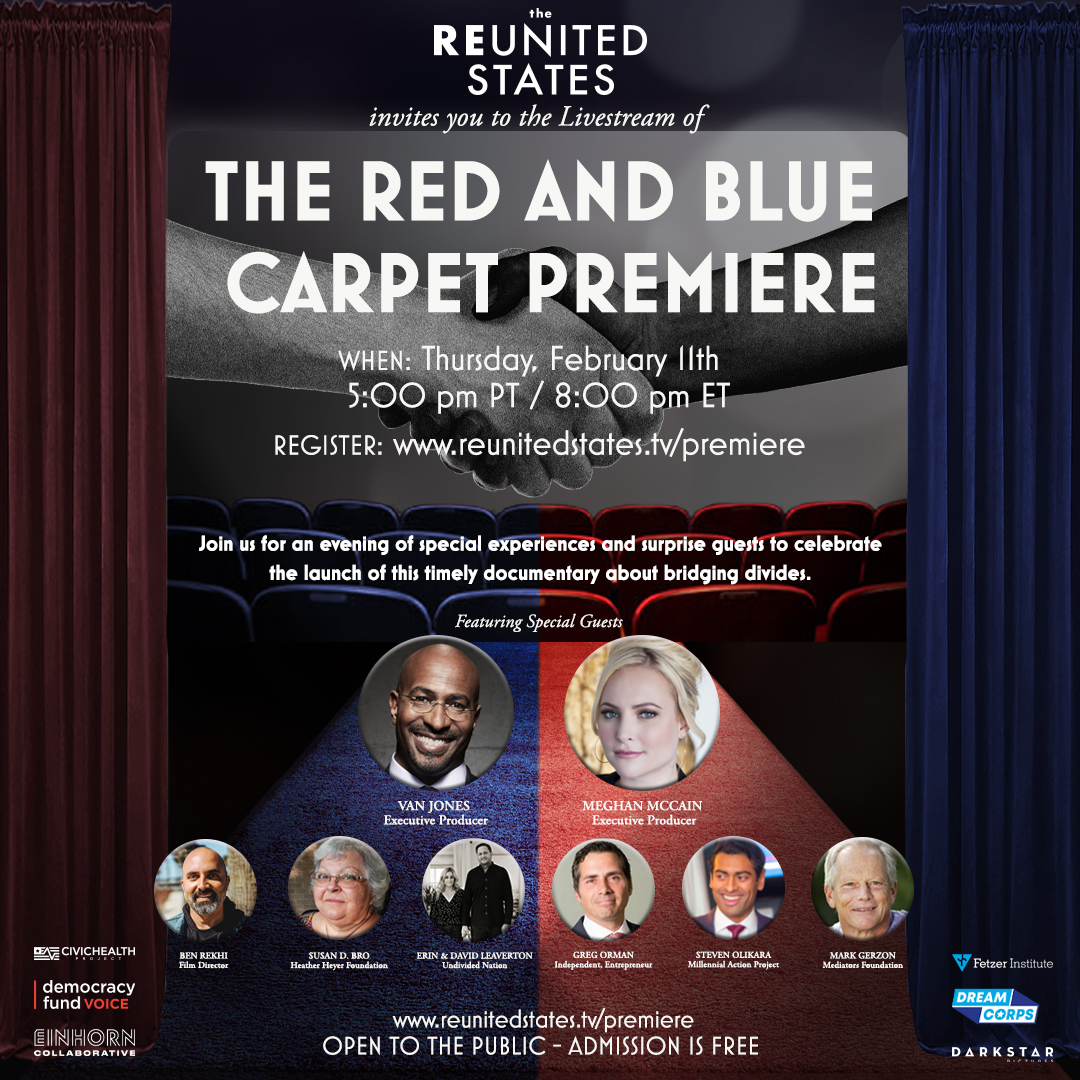 You can find the original version of this invitation on the Reunited States tv site at www.reunitedstates.tv.